People, nowadays, are so into watching series and seasons and they want to make the most of their alone time fun and full of happy moments. That is why they prefer watching it on tv with headphones on. This is a whole vibe to experience. But for that, you first know how to use bluetooth headphones with tv and for that purpose, we are here with this blog. And now in this article, you are going to discover some of the ways about using Bluetooth headphones with tv.
What are the ways to use Bluetooth headphones?
For getting the main idea of this blog, first, we need to understand the ways to use Bluetooth headphones. Yes, Bluetooth headphones come with ease to use but in what possible ways you can use them?
You can use your Bluetooth headphones for listening to music alone when you do not intend to bother others with your music or when you want to keep yourself distracted from others you turn on your Bluetooth headphones and listen to music. For online gaming, people prefer using these headphones and attending meetings or conferences online.
These imply that Bluetooth headphones can be your savior in any public place. But do you use them while sitting and chilling at home? Or how can you use them at home also? To find out the answers, let us quickly jump to the main theme of this blog.
How to use Bluetooth headphones with tv?
Bluetooth headphones can be paired up with your tv and are ready to use. On that note, another question arises on how to connect Bluetooth headphones with tv.
The process is very simple. Head over to the main menu of the tv setting and go to accessories settings. There you will see the Bluetooth option. Turn it on and pair it up with the Bluetooth of the headphones. After both the devices are paired up, connect them and you are ready to enjoy the movie.
Another way to use Bluetooth headphones with tv is to connect them to a Bluetooth transmitter added to your tv (when the tv itself does not have the Bluetooth connection option).
People usually prefer the tv with Bluetooth option. Because of this, they can watch tv with or without their headphones which again depends on the mood and likeness factor.
Where to find Bluetooth headphones that you can use with tv?
Even though nowadays Bluetooth headphones are easily connected and used with tv. There are various brands from where you can get the best Bluetooth headphones but recently we have gotten our hands on some of the devices from Soundcore and they are simply amazing at what they do. They have a good range of Bluetooth headphones with amazing performance and reasonable pricing.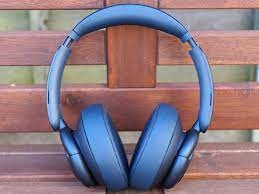 Bottom line:
To summarize the idea of this blog, we will say that when someone asks you how to use Bluetooth headphones with tv you can simply make them read this blog. This will clear their confusion. Connecting and using Bluetooth headphones has become a trend among millennials and Gen Zs and one cannot be blamed for this.